Beauty Tips to Follow During The Rainy Season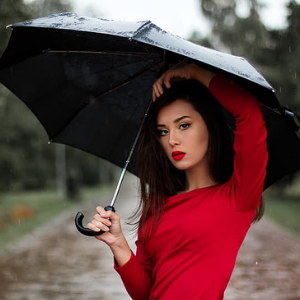 When we are at home, we love rain, other times this becomes a real problem; it makes us late, cancels commitments and ruins the outfit that takes hours to prepare. 
Fortunately, we should always have a plan B that allows us to look great despite the bad weather, check out these tips and prevent rainy days from being a disaster.
Skin Care Tips During Monsoon:
Our skin also needs protection during seasonal changes. In the rainy season, it becomes important to protect skin from a high level of moisture and infectious diseases. The following health & beauty tips will shield your skin from humidity complications:
Always follow cleansing, toning and hydration routine to keep your skin young and luminous. Moisturising creams can be your ally this season because it has collagen and elastin.

Apply a sunscreen before you go out because the sun's rays are still there in the rainy season.

Take care of your skin in autumn by applying sunscreen and nourishing cream.

Forget cracked lips. Always carry a lip balm with you and apply it constantly. Preferably, use those that contain natural ingredients such as moisturizing oils or cocoa butter.

To get rid of annoying flaky skin, you need to exfoliate your skin twice or thrice a week. Avoid putting too much pressure because you can hurt the dermis.

To look spectacular at all times, you need to apply moisturizer. Always carry a hand cream in your bag. In addition, BB cream will become your best beauty product, as it moisturizes and gives a slight touch of colour to the face to look fabulous at all times.
Hair Care tips during Monsoon:
Avoid hot water:

 Washing your hair with steamy hot water will cause it to weaken and become brittle. Take it as a routine whenever you have to wash it, do it with cold water. Don't let the weather beat you!

Use good products:

 To reduce frizz caused by rain, fog, moisture and eliminate dehydration that occurs during this time of year, it is advisable to use good products that revive and return the shine, check the labels and make sure they are toxin and paraben-free.

Apply hair oil

: It is advisable to apply a generous amount of coconut oil, half an hour before washing.

Use a hair perfume:

Hair perfume contain moisturizing agents that protect against extreme temperatures and reduce static electricity.

Do not go out into the street with wet hair:

 Hair exposed to low temperatures absorbs moisture, makes them dry and frizzy. 

Wrap your hair with a silk or satin scarf:

If you like to wear hats, replace them with a satin scarf. 

In the wind, pick it up:

 The wind entangles hair and fills it with knots. To avoid this, you can pick up a tail with dry hair.
What to eat in Rainy Season?
Although health and beauty blog experts recommend consuming Vitamin C rich food in the rainy season, there are others that can also work to prevent cold.
Vegetables have nutritional advantages to fight disease. You can eat this type of raw food, in stews, or soups.

Fruits have an important contribution to the immune system. Orange, grapefruit or kiwi are the best options to prevent infections.

Meat, egg, cheese, milk, liver and whole grains strengthen the innate immunity.

Another essential component for healthy skin is Vitamin A, it is usually found in carotenoid-rich fruits and vegetables. They are often yellow or orange in colours like sweet potato, carrot and pumpkin.



Important Health care Advice: Cook the above-mentioned foods steamed, prepare them in soups, and accompany them with hot drinks.

Beauty Tips to follow:
Change your base:

The bases of creamy and compact consistency will give you better results, as they have greater resistance to water.

Watch out for moisture:

Do not sleep or brush your hair when it is wet to leave its natural waves.

An All-time SOS kit:

Every prepared woman always loads with her an emergency kit that includes: comb, brush, pins, garters, mirror, compact powder, blush or bronzer, lipstick, mascara, eyeliner and shadows.

Go for Best hairstyle:

Nothing better than showing off chongos, braids or ponytails, as wearing fringes or loose hair can cause frizzy hair.

Use Waterproof products:

Prefer waterproof mascara and eyeliner for your eyes and you'll see that retouching your makeup will be a thing of the past.
Get Health Care tips is a perfect website if you are looking for 360-degree health and beauty maintenance ideas. No matter if you want data about weight loss tips or lifestyle fitness, you can get everything here with just a single click!
Conclusion: Summer is a very fun season for fashionistas, as they could easily play with different styles. However, when the rain begins to fall during the rainy season, it can be a little unsettling to stay dry and strut in high heels. 
Applying sunscreen, lip balm, BB cream and toner to your skin can help you a lot.  To protect your hair from frizz, cover them with a scarf, apply hair oil and avoid hot water.