Beauty Tips for a Healthy and Glowing Skin This Winter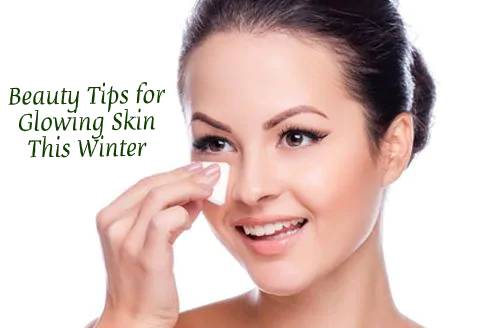 Winter season is at its peak and everyone is already having its impact on their skin. Winters can be very harsh on the skin if we do not take care of it. There are several health and beauty tips that can be helpful for us. It's important to protect our skin and have some precautions in winters or else the damage can be worse and incurable. 
Dryness and lifeless skin is the main problem that most of us face in winters. It is important to keep the skin hydrated so that it does not get dry easily. Here are some beauty tips which will help you to keep your skin healthy and glowy this winter:
Use a soap-free cleanser:

Replace your regular facewash with a soap-free cleanser. Soaps make your skin even drier, especially in winters. Soap-free cleanser deep cleans your skin without making it dry. Look for a cleanser that has hydrating and moisturizing ingredients. Also, do not fall for fragrance. It is good to use non-perfumed skincare products to avoid chemicals.  

Exfoliate your skin:

Our skin tends to dry in winters and it is important to remove that dead dry skin. A good exfoliator can help you to do so. Use a gentle scrub or exfoliator with small particles that are round shaped. It will remove the dead skin easily without any damage. It is advised to exfoliate twice a week for better results. 

Apply a face mask:

To heal your skin and give it a natural glow, use a good face mask. It repairs your skin from the damage that winter has done. You can use a homemade face mask or a readymade face mask with natural ingredients. Sheet masks are also in trend these days. Use any face mask for a good 15 to 20 minutes and relax so that your skin can heal and repair. 

Use a good toner:

After a good fresh, exfoliation, and masking, using a good toner is very important. There are a plethora of toners available in the market so choose one with care. It has to be more natural and chemical-free. Rosewater is the most popular toner and available in every household easily. It will sooth your skin and will make it softer and glowy. 

A few drops of serum:

In winters, our skin needs some extra care. Give it good nourishment with the use of a good face serum. Serums give a nice glow to your skin and also minimize open pores. Chose a good serum with natural ingredients and vitamins. It will keep your skin looking younger and glowy. 

Facial oils:

Facial oils are the best to keep your skin moisturized all day. It gives a within glow to the skin and also repairs your skin. You can use them directly on your face or mix it with your moisturizer. People with oily skin can also use a facial oil as it does not set on the top layer of the skin. In fact, facial oils get absorbed into the skin and provide deep nourishment. It helps to reduce acne, fine lines, blemishes, and breakouts. 

Moisturize your skin:

Never leave your skin dry, especially in winters. This may cause wrinkles and fine lines on your skin. Just after your bath use a good moisturizer to keep your skin nourished and protected. There are many moisturizers available in the market. Some of them are water-based and some are oil-based. You can choose any according to your skin type. 

Do not avoid sunscreen:

Sun rays can affect your skin in winters too. It is good to protect it with a good sunscreen. Make it a part of your skincare routine so that your skin can shine in winters. There are tinted sunscreens are also available which you can use on a daily basis. Choose a sunscreen with PA+ and maximum SPF. 

Stay hydrated:

Do not cut off your water intake. Keep yourself hydrated by drinking a lot of water and fresh fruit juices. Water is the main and the most important ingredient that keeps your skin glowy and healthy. No skincare can work better for you if you are not having a sufficient amount of water. Keep a water bottle with you throughout the day and drink water at regular intervals. 

Eat good food:

Have a healthy diet. Eat green veggies and fruits. It keeps your body fit by providing all the important nutrients. All these nutrients will give you healthy and radiant skin. Avoid oily food and junk food. It not only affects your digestion but also gives acne and other skin problems. 
No matter how chilled it is outside your skin is going to glow if you follow the above skincare. These are all simple steps that you can easily follow in your daily routine. Give your skin some extra care this winter by using these health & beauty tips.