Health And Well-being Habits for Life: Make Progress every day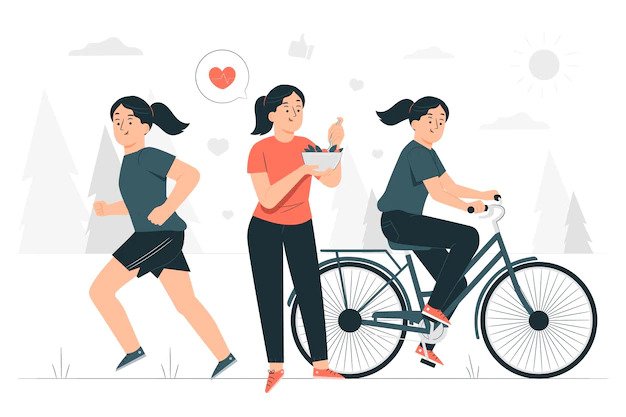 The existing generation of the 21st century is familiar with the busiest and vigorous era. They often go through health fitness tips in a journal or e-news but never employ them in reality. 
In the desire to grab endless revenue, people are now going to avoid their health and well-being. Eating fast food, spending time on phones, and sleeping late at night become the habit of today's lifestyle. They may skip reckless people; this fitness lifestyle blog will give a clear perception of healthy habits. 
The Types of Fitness Goals
Every person has a different goal in their fitness mania. Based on it, the fitness goals are also varied for each other. Let's check out some diverse categories of fitness goals in this lifestyle fitness blog. 
1. Common Goal: You can get some folks who are not focused to achieve any fitness goal. They just prefer to stay fit by attending a gym or doing free hand exercises. To them, staying slim and fit is everything.
2. Toned Muscles: Some people are eagerly waiting to get fine-toned muscles. They need the perfect biceps, triceps, flat stomach, and thin legs. Their fitness goal is toned muscles.
3. Body Building: A huge number of people love to build a robust body. They aim to get a strong and flexible body. For this, they do exercise a lot. And also maintain different food habits than the common people.
4. Weight Loss: In today's society, most people, especially youths wish to be in a perfect body shape. They never expect any unwanted body fat. Therefore, they go for fitness training to lose weight.
5. Doctor Prescribed Goal: Those people who are still unaware of health and fitness blogs, should wake up after a doctor's health care advice. Their goal is entirely different from the others. Whatever is advised by the doctor is their fitness mantra.
Tips of Some Habits to Get a Healthy Life
Health and fitness tips can never make you fit within a night. It demands the proper practice of workout every day. Not only workouts, but it also requires some healthy habits. Do you like to know the valuable tips? Then follow this article till the end.
1. Set A Goal: Most people fail to get a fit and strong body for a lack of goal setting. If you are not determined to achieve a healthy life, it will be impossible to grab it. So, at the initial stage, you must have to set the goal that you badly want of a perfect healthful lifestyle.
2. Stay Motivated: Motivation is most needed here. As it's not possible to achieve your dream lifestyle within a day. Practising a bunch of good habits day by day can assist you to gain it. So, you have to stay motivated so that you will be successful at your motive one day. 
3. Enjoy Workout: Exercises are painful to our body at the very beginning. Once you take the exercises as the burden of your life. Then you have to struggle more to reach your aim. Relish the daily exercise from your mind. Choose the categories of exercise as per your fondness. You can also make your monotonous exercises with the beats of charming music.
4. Don't Take Pressure Together: As a beginner, start doing workouts for 10 minutes only. Excessive pressure of body movements may occur in some muscle crumps. Gradually, increase the time from 10 to 30 minutes. Always take such amount of load which you can carry satisfactorily.
5. Feel the Morning Vibes: The fresh air of the early morning can start your day actively. Try to do exercises or yoga or walk in the early morning. It will give you a day full of energy.
6. Healthy Foods on Time: To get a durable healthy life, you must have to curtail the list of your favorite junk foods. Instead of that, engage in a meal full of fresh fruits and veggies. And don't forget to take plenty of water.
Conclusion
A healthy lifestyle can let you experience the Godly moments in your life. Junk foods, late-night waking, taking alcohol, and smoking can permit you to dive into a temporary refinement, but summon the harm for a lifetime. So, make these habits rapidly and enjoy a fresh and green life.